As nannies, we constantly have to come up with creative ideas to keep our kids active and occupied, so here are a few DIY tips and tricks on how to make a few fun, easy ornaments with your child(ren).

Cardboard Christmas Tree

Materials needed: cardboard, green yarn, and miniature colored fluff balls.
Step 1. Cut a triangle out of cardboard to whatever size you want the tree to be.
Step 2. Cover the cardboard in glue and allow it to dry to semi-clear color.
Step 3. Roll off the amount of yarn needed based on the size tree you are making. Once the glue is at the required color, start rapping the yarn from the point of the triangle to the base and allow it to dry thoroughly.
Step 4. Once dry, add colored puff balls to the tree as you please.
Pipe Cleaner Wreath
Materials needed: pipe cleaners of different colors, a piece of cord, jumbo beads, ribbon, and cardboard.
Step 1. Cut two pieces of cardboard out in a circle to whatever size wreath you want.
Step 2. Glue the cardboard together to give the wreath a thicker look, and make two holes in the top of the wreath. Once the cord runs through the cardboard, make a knot on the opposite end to secure it.
Step 3. Cover the cardboard with pipe cleaners. Once completely covered, twist two pipe cleaners together and string jumbo beads on them. Attach them to the wrap-around cover area of the wreath.
Step 4. Make a bow at the top of the wreath, close to where the hanging cord is attached at the center head of the wreath.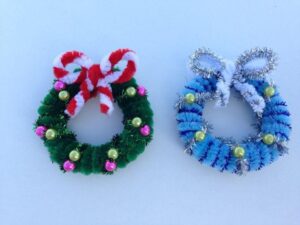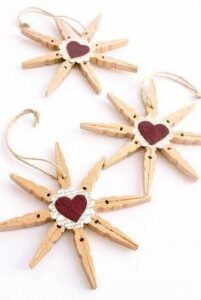 Clothespin Snow Flakes
Materials needed:
Board clothespin, yarn, pipe cleaner, and white sprinkles
Step 1. Remove all springs from clothespins, fit and glue them back together, and allow them to dry.
Step 2. The flakes can have a minimum of 4 pins and a maximum of 8 pins for each snowflake; Lay the clothespins out together in a star-like shape and glue the bases of all the clothespins together, allowing them to dry.
Step 3. Get a white pipe cleaner wrapped in a circle to stuff in the middle of clothespins.
Step 4. Cover the clothes pins on the back and front in glue, submerge in white sprinkles, and leave to dry.
Bottle Cap Snow Man
Materials needed: Bottle covers, ribbon buttons, and yawn
Step 1. Measure and cut the ribbon 8 cm long, make a loop at the top fold, and glue it down.
Step 2. Glue each bottle of Corke onto the ribbon below where the loop was made.
Step 3. Make the snowman face with a different color yawn and tie a piece of yarn between the first and second space betting the corks to pack as a scarf.